CNC Centreless Grinding Machine Cincinnati 340-20 Twin Grip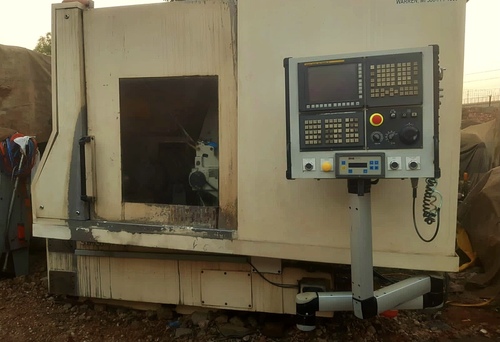 CNC Centreless Grinding Machine Cincinnati 340-20 Twin Grip
Product Description
Cincinnati 340-20 Twin Grip CNC Centerless Grinder
It is called a TwinGrip grinder as both the regulating wheel and grinding wheel spindleshave outboard support bearings, compared to cantilevered spindles on othermachines. With 20 inch of grinding wheel width capacity, this machine willtackle the most demanding thru feed applications with ease. It also excels athigh precision infeed grinding for long and large parts.
We have a completeline of automation and CNC upgrades for our machines to not only improveprecision but also increase productivity. Reach out to us today to find outmore about how we can help improve your operation today.
Common Applications:
Infeed grindinglong parts (up to 20 inch length)
High volume orheavy stock removal thru feed grinding
Large diameter bargrinding
Description:
Machine Type: CNC Centreless Grinder
Machine Make: Cincinnati
Machine Model: 340-20 Twin Grip
Features: Easy Installation,Pocket friendly prices, Minimum Maintenance
Technical Specifications:
CNC Control

6 Axis Fanuc 31i

Year Of Construction

2015

Max Grinding Diameter

155 mm

Standard Thru Feed & In feed Work Rest

13 - 77 mm

Grinding Wheel Hole

305 mm

Max Dia Of Grinding Wheel

610 mm

Min Dia Of Grinding Wheel

435 mm

Grinding Wheel Width

Upto 508 mm

Regulating Wheel Hole

155 mm

Max Dia Of Regulating Wheel

360 mm

Min Dia Of Regulating Wheel

270 mm

Regulating Wheel Width

Upto 508 mm

Regulating Wheel Speeds Low Range

12 - 56 RPM

Regulating Wheel Speeds High Range

56 - 300 RPM

Grinding Wheel Drive

40 HP

Regulating Wheel Drive

2 HP

Hydraulic Pump

1 HP

Speed Changes

Var. Pitch Sheaves And Gear Shift

Machine Equipped with

CNC Dressing For Both Wheels

CNC Depth Movement

Servo Motor RPM Control
Buy used CNCCentreless Grinding Machine Cincinnati 340-20 Twin Grip in very good working condition at a verycompetitive price.