CNC Gear Shaper Liebherr LS 150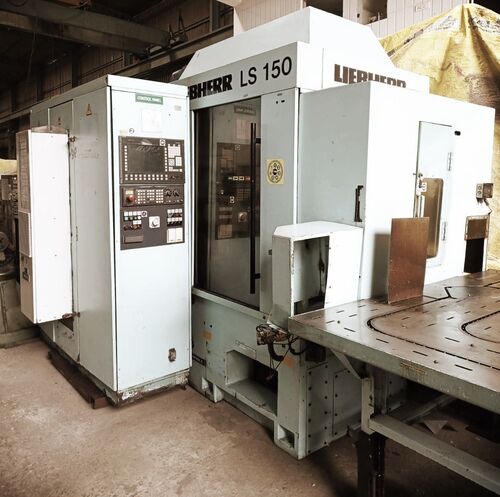 CNC Gear Shaper Liebherr LS 150
Product Description
CNC Gear Shaper Liebherr LS 150
The Liebherr LS 150is a CNC gear shaper, manufactured by Liebherr-Verzahntechnik GmbH. It'sdesigned for precision gear cutting using computer numerical control (CNC)technology. Gear shapers like the LS 150 are used to create a variety of gearshapes with high accuracy and repeatability, making them crucial in industrieslike automotive, aerospace, and manufacturing.
Description:
Machine Type: CNC Gear Shaper
Machine Make: Liebherr
Machine Model: LS 150
Features: Flawless Performance, High Accuracy.
Technical Specifications:
Machine Model

LS 150

Machine Make

Liebherr

Manufacturing Year

2005

CNC Control

Siemens 840D

Range Of Center Distance

20-220 mm

Maximum Radial Speed

196.85 IPM

Maximum Workpiece Diameter

150 mm

Maximum Table Speed

150 RPM

Table Diameter

145 mm

Lateral Column Off-Set Adjustment Range

+/-20 mm

Cutter Head:

Drive Capacity

22.1 HP

Maximum Cutting Spindle Speed

30 RPM

Maximum Stroke Number

1500 Dh Per Minute

Maximum Stroke Length

55 mm

Maximum Module

5 mm

Axis Angle Displacement

+/- 0.5 Degrees

Maximum Tool Diameter

240 mm

Cutter Spindle:

Interface Type

Steep Taper 40

Cutting Spindle Diameter

85 mm

Stroke Positioning Adjustment:

Stroke Position Adjusting Range

65 mm

Steady Column:

Axial Travel

300 mm

Maximum Steady Column Speed

1181 IPM

Maximum Steady Column Clamp Force

13 KN

Approximate Weight Of Machine

12.7 Ton

Machine Equipped With:

Siemens 840D CNC Control

15³ Color Screen

Integrated PLC In Control Cabinet
Chip Conveyor
Liebherr LS 150 CNC Gear Shaper Machine in best workingcondition and best prices.