Gear Hobbing Barber Colman 14-15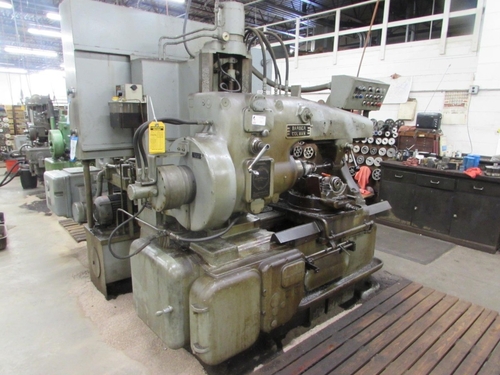 Gear Hobbing Barber Colman 14-15
Product Description
Barber Colman 14-15 Gear Hobbing Machine
Barber Colman No. 14-15 Hobbing Machine is designed primarily for, high production work on spur and helical gears, spline shaftsand special forms. The hydraulic operation, automatic cycling, and ruggedconstruction combine to make the 14-15 especially suitable for high productionwork. However, because of the ease of set-up, it can also be used quiteprofitably for short-run work. The maximum size workpiece capability is 14" in diameter with a 15" face width less the necessary approach.
Description:
Machine Type: Gear Hobbing Machine
Machine Make: Barber Colman
Machine Model: 14-15
Features: Flawless performance, long functionallife.
Technical Specifications:
Capacity

Maximum rated work diameter

355.6 mm

Maximum D. P.(for one cut in steel)

7.3 mod.

Maximum travel of hob carriage

381 mm

Work spindle bore, standard

104.7 mm Straight

Work spindle nose taper

18 Browne & Sharpe

Maximum hob diameter, standard hob slide

152.4 mm

Maximum swivel angle setting standard knob swivel

(90" swivel available)

50 degree, L. or R.

Maximum hob speed

362 RPM

Motors

Main drive

10 HP, 1800 RPM

Hydraulic pump

5 HP, 1800 RPM

Coolant pump

1 HP, 1800 RPM

Lubricating pump

1/20 HP, 1800 RPM

Machine Data

Hydraulic tank capacity

25 gal.

Hydraulic fluid

275-325 SUV

at 100 degree F

Coolant tank capacity

15 gal.

Lubricating oil tank capacity (index end of machine)

35 gal.

Lubricating oil tank capacity (main drive end of machine)

2.5 gal.

Lubricating oil

275-325 SUV

at 100 degree F
Available forsale, Used GearHobbing Barber Colman 14-15 in a very good condition at bestprice.