Knife Grinder Reform 5 HMT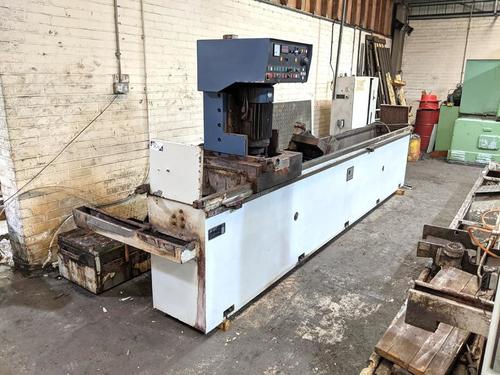 Knife Grinder Reform 5 HMT
Product Description
The modernKnife Grinders like Reform 5 HMT Knife Grinding Machine, Reform 41/5Knife Grinder and Reform AR 31/71 Knife Grinding Machineare perfect examples of cutting edgeknife grinding capabilities. Known industry wide for its durability andretained accuracy over decades of continuous use, no other grinder offers this levelof continued performance.
All changeover work is done from the front of theunit. This includes the quick change capabilities of knives, grinding stones,wheels, and abrasives. By leveraging classic Reform dependability now matchedwith the best available technology, programmability, repeatability, andresults, less demand on the operators translates to quicker grinding cycles.
The cellular construction of the stress relievedbase provides unmatched stiffness and vibration dampening. With Reformsconvenient LCD electronic controls, each stage of the grinding process issafely and conveniently operated, observed, and adjusted. This includes thetouch-off, rough grinding, finish grinding, and spark out stages. The design ofthe Knife Grinders like Reform 5 HMT Knife Grinder, Reform 41/5Knife Grinding Machine and Reform AR 31/71 Knife Grinderallows for the grindingindustry safest operation of industrial knife grinding equipment.
The German engineering andmanufacturing process of the knife grinders is the bestavailable option.
The proven history of the Reform line ofgrinding equipments reliability and performance can be trusted without concern.
Machine Type: Knife Grinder
Machine Make: Reform
Machine Model: 5 HMT
Features: Easy Installation, Pocket friendly prices, Minimum Maintenance.
Machine Make
Reform

Machine Type

5 HMT

Country

Germany

Year Of Manufacture

2010

Working Length

3100 mm

Working Width

200 mm

Voltage

400 Volts / 50 Hz

Total Power

13.5 KW
Buy used Knife Grinder Reform 5 HMT in very good working condition at a very competitive price.