Mitsubishi GC25 CNC Gear Hobbing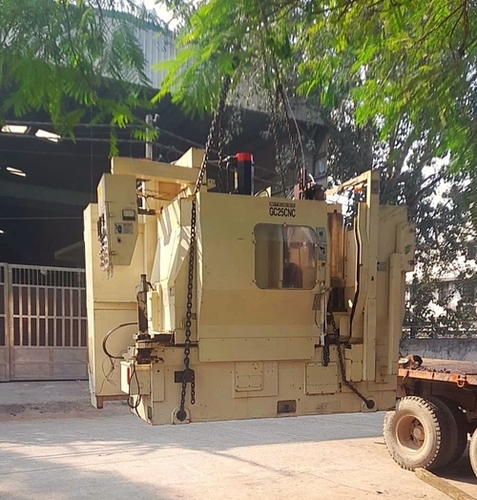 Mitsubishi GC25 CNC Gear Hobbing
Product Description
Mitsubishi GC25 CNC Gear Hobbing
Mitsubishi is apioneer in gear production machines. Mitsubishi model GC-25 is an excellent highproduction, 5 Axis gear hobbing machine capable of cutting 250 mm dia with 8module. The machine is capable of high speed gear cutting at 1500 RPM with 130mm hob dia and 230 mm hob length.
Mitsubishi CNC gear hobbing GC-25 is also capable ofcutting long sheets upto 300 mm. Mitsubishi CNC gear hobbing very well supportsthe second hand machines in the market and is known for quick, reliable andeconomical services.
Description:
Machine Type: CNC Gear Hobbing Machine
Machine Make: Mitsubishi
Machine Model: GC 25
Features: Easy Installation, Robust Design,Minimum Maintenance.
Technical Specifications:
CNC Control

Fanuc Series O-M

Year Of Manufacture

1992

Max Work Piece Dia

250 mm

Max Cutting Module

8 Module

Axis Travel

250 mm (opt. 400)

Radial Travel

210 mm

Hob:

Max Dia

130 mm

Max Length

230 mm

Shift

180 mm

Speed

150 to 1500 min-1

Max Table Speed

150 min-1

Main Motor

18 KW
Buy Used Mitsubishi GC 25 CNC Gear Hobbing Machine in very good workingcondition at a very competitive price.