Oerlikon S27 Bevel Gear Generator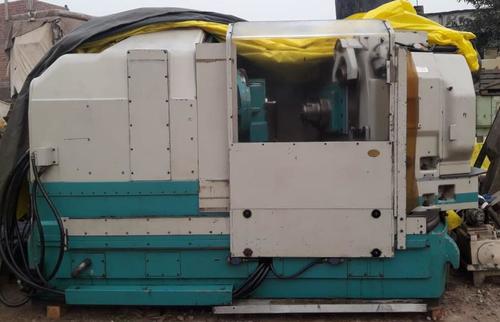 Oerlikon S27 Bevel Gear Generator
Product Description
Oerlikon S27 Bevel Gear Generator
We have successfully achieved a high level of customer appreciation resulting in long-lasting relations by offering products that are high in quality.

We purchase all of our products directly from their origin place to provide excellence in both quality and price.
All of our machineries offered including Oerlikon S27 Bevel Gear Generator is precision engineered to provide high operational benefits to the user entities.
Description:
Machine Type: Bevel Gear Generator
Machine Make: Oerlikon
Machine Model: S27
Features: Easy Installation, Pocket Friendly prices, Minimum Maintenance.
Technical Specifications:

Working Range

Max Dia of crown gear at a mean spiral angle of 30o

600 mm

Range of modules

4.5 - 10

Max ratio of number of teeth approx

1 to 10

Max width of teeth approx

95 mm

Outer pitch cone distance approx

330 mm

Distance from pitch cone apex to cutter axis

40 - 270 mm

Distance from pitch cone apex to tool spindle shoulder

80 - 280 mm

Distance from pitch cone apex to work spindle shoulder

180 - 580 mm

Tool Spindle

Spindle nose to short taper to Oerlikon standard

1:4, Dia 130 mm

Inclination of spindle

0 - 35o

Spindle speeds according to the table

Work Spindle

Spindle nose with short taper

1:4, Dia 225 mm

Spindle socket taper

1:20, Dia 150 mm

Spindle through hole

91 mm

Swivel angle

-7 to +90 degrees

Range of work spindle offset for offset gears

+60 to -65 mm

Feeds

Max plunge-cut travel

30 mm

Plunge cutting feeds infinitely variable

0.06 - 37 mm/min

Rapid approach of tool head

1600 mm/min

Roll cradle feed

0.35 - 154o/min

Mass

Machine Weight

17100 Kgs
Buy used Oerlikon S27 Bevel Gear Generator in very good working condition at a very competitive price.