REISHAUER NZA GEAR GRINDING MACHINE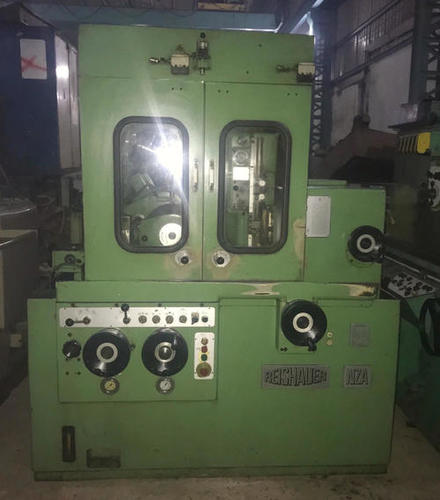 REISHAUER NZA GEAR GRINDING MACHINE
Product Description
Reishauer NZA Gear Grinding Machine
Fromstock in Delhi, Used Reishauer NZA GearGrinder Machine for sale
The type NZA Gear Grinder is equipped forprofiling on the machine. There is no mechanical connection between thegrinding spindle and the work spindle. UsedGear Grinder Reishauer NZA is driven by two independent synchronousreaction motors running in absolute uniformity. The motors are of anexceedingly powerful size and in addition to the work drive is equipped with anadjustable brake pump to prevent fluctuation of load. This type of constructionensures very high accuracy on the ground gear in the Gear Grinding Machine Reishauer NZA
The dressing of threaded grinding wheels for continuousgenerating grinding fulfils several purposes. It serves to generate therequired grinding wheel profile and to maintain the free-cutting ability of thewheel.
In Used Gear GrinderReishauer NZA, Diamond is the ideal material for dressing tools as it ismany times harder than the aluminum oxide of the grinding wheels. The dressingof Reishauer Gear Grinder aluminumoxide wheels is exclusively done with rotary diamond dressing tools. Reishaueroffers a comprehensive range of such rotary diamond dressing tools. Theselection of the tools depends on specific customer requirements such as thedesired flexibility regarding gear geometries and the required productivity.
Description:
Machine Type: Gear Grinding Machine
Machine Make: Reishauer
Machine Model: NZA
Features:
Rust resistant, Easy usage, Pocket-friendly prices
Technical Specifications:
Working Range

Max Workpiece Dia

300 mm

Min Workpiece Dia

10 mm

Max Number Of Teeth

130

Min Number Of Teeth

12

Max Pitch

5 Module

Min Pitch

0.5 Module

Max Helix Angle, Left-hand And Right-hand

45 degree

Max Helix Lead (With 24 Teeth)

About 6000 mm

Min Helix Lead (With 24 Teeth)

About 200 mm

Max Grinding Length

170 mm

Max Clamping Length

420 mm

Max Grind Able Pressure Angle

30 degree

Min Grind Able Pressure Angle

14 degree 30

Speeds And Feeds

Speed Of The Grinding Worm When Grinding

1900 RPM

Speed Of The Grinding Worm When Profiling

About 90 RPM

Feeds Of The Work Slide Per Revolution Of The Workpiece, Adjustable Sleeplessly Between

0.4 and 3.2 mm

Automatic Infeed Per Work Slide Stroke, Adjustable Between

0.01 and 0.08 mm

Grinding Worm Dimensions

Max Dia

350 mm

Min Dia

270 mm

Bore

160 mm

Width For Module 0.5 Upto Module 3.75 Or DP48 Upto DP6

62 mm

Width For Module 3 Upto Module 5 or DP8 Upto DP5

84 mm

Sundry Data

Tangential Shifting Of The Work Slide

70 mm

Grinding Slide Withdrawal For Changing Workpieces

About 50 mm

Max Weight Of The Workpiece

About 60 Kg

Total Power Required

About 11 HP

Weight Of The Machine Net

About 4700 Kg

Weight Of The Machine Gross

About 5800 Kg
Buy used Reishauer NZAGear Grinder in very good working condition at a verycompetitive price.