Russian Knuckle Joint Extrusion Press Stanko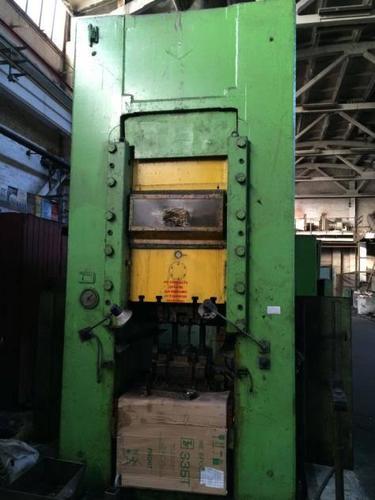 Russian Knuckle Joint Extrusion Press Stanko
Product Description
Russian Knuckle Joint Extrusion Press Stanko KB 0036
We have successfully achieved ahigh level of customer appreciation resulting in long-lasting relations byoffering products that are high in quality. We purchase all of ourproducts directly from their origin places to provide excellence in both qualityand price. All of our machineries offered including Russian Knuckle Joint Extrusion Press Stanko KB 0036 areprecision engineered to provide high operational benefits to the userentities.
Description:
Machine Type: Knuckle Joint Extrusion Press
Machine Make: Russian Stanko
Machine Model: KB 0036
Features: Easy Installation, Pocketfriendly prices, Minimum Maintenance.
Technical Specifications:
Capacity Of Press

4000 KN

Constant Press Stroke

230 mm

Frequency Of Continuous Press Strokes Per Minute

25

Number Of Single Press Strokes Per Minute

16

Press Stroke Path Till Its Extreme Position, Where It Develops Capacity Of Press

36 mm

Distance Between Die Bed & Press Slide In Its Lower Position With Up Position Of Adjustment

590 mm

Dimension Of Distance Adjustment Between The Bed And Press Slide

16 mm

Thickness Of Die Bed

160 mm

Overhead Ejection Stroke

16 mm

Overhead Ejection Force

160 KN

Inferior Ejection Stroke

140 mm

Inferior Ejection Force

500 KN

Rigidity

3600 KN

Proportions Of Bed:

From Left To Right

From Front To Back

1000 mm

1250 mm

Proportions Of Press Slide:

From Left To Right

From Front To Back

900 mm

940 mm

Overall Dimensions Of Press:

From Left To Right

From Front To Back

Height

2270 mm

2600 mm

4750 mm

Height Of Press Above The Floor

4400 mm

Mass Of Press Without Base And Electric Equipment

37450 Kgs
Buy used Russian Knuckle Joint Extrusion PressStanko KB 0036 in very good working condition at a very competitiveprice.