UNION BFP 130/5 HORIZONTAL BORING MACHINE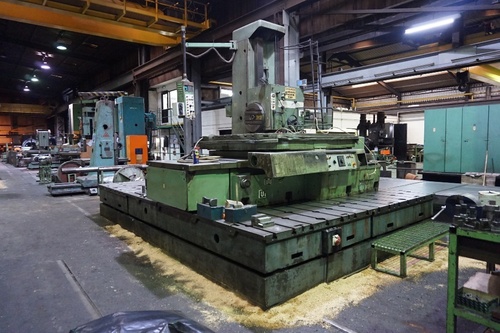 UNION BFP 130/5 HORIZONTAL BORING MACHINE
Product Description
Union BFP 130/5 Horizontal Boring Machine
We have successfully achieved a high level of customer appreciation resulting in long-lasting relations by offering products that are high in quality. We purchase all of our products directly from their origin places to provide excellence in both quality and price. All of our machinery including the Union BFP 130/5 Horizontal Boring Machine offered is precision engineered to provide high operational benefits to the user entities.
Description:
Machine Type: Horizontal Boring Machine
Machine Make: Union
Machine Model: BFP 130/5
Features:
Durable Finish, Precision Engineered, Optimum Performance
Technical Specifications:
Long Traverse

5600 mm

Vertical Traverse

2000 mm

Column Infeed

400 mm

Spindle Traverse

1000 mm

Spindle Diameter

130 mm

Spindle Speeds

4.5 - 900 RPM

Spindle Taper

50 ISO

Facing Head Diameter

785 mm

Facing Slide Traverse

250 mm

Facing Head Speeds

4.5 - 180 RPM

Feeds

0.03 - 48 mm/Min

Additional Information

T Slotted Floor Plates

Union T1200 Powered Rotary Table

Universal Milling Head

Digital Read Out

Pendant Control
Buy used Union BFP 130/5 Horizontal Boring Machine in very good working condition at a very competitive price.